Last night in what was the BBC's most bizarre scheduling decision of the year, I sat down at 10.30pm to watch
Eddie Izzard Marathon Man
on BBC3. What hero this guy is, at the age of 47 with no prior running experience he decides to swap his life as a stand up/transvestite to run 43 marathons in 51 days. I struggle to run 5k without being out a breath and anyone who completes a marathon has my upmost admiration, but to complete 43 back to back, well that takes it to another level doesn't it!?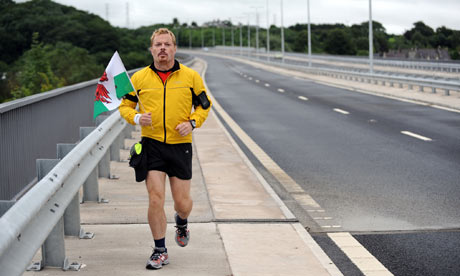 The run was done in support of
Sport Relief
and saw Eddie take in a route that involves the whole of the UK. Last nights episode showed Eddie's 5 weeks of prep and then suddenly we were off, starting in the centre of London's Trafalger Square heading west towards the beautiful Wales. There were some great moments of Eddie being supported by the Great British public, in particular a lovely welsh lady running alongside him with some homemade Welsh Cakes and a guy who just wanted to shake his hand for the fact he wanted to salute his crazy mental challenge. As he headed deeper into the Welsh valleys, with his feet becoming more infected and painful, I could only admire the guy more and more, he just seemed to determined to get through each mile and everytime he finished another marathon you could see the relief across his face.
The programme is in 3 parts, the next being Thursday March 11th and then concluding on Thursday March 18th and it's great viewing and very inspiring!
Have lovely weekend! x